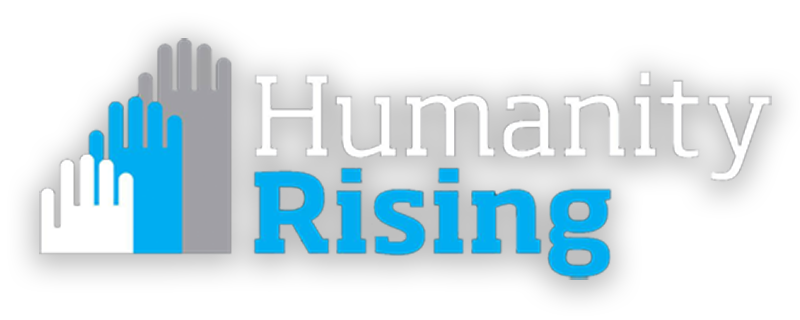 A POWERFUL TURNKEY SOCIAL IMPACT & EMPLOYEE ENGAGEMENT SOLUTION
Our Company-Branded Service Challenges include an employee video challenge, virtual volunteer opportunities, and scholarships awarded to outstanding young changemakers in your company's name. There is also an opportunity to bring these young leaders to speak at your company!
Humanity Rising does all of the legwork while you experience the joy in inspiring and celebrating young leaders!
"Empowering young people to change the world. That's the mission of Humanity Rising."
– Winner of the NBCUniversal Project Innovation Award.
Help inspire and support youth in your communities!
Humanity Rising is a student-led movement to create a better world through service.  Our mission is to build the next generation of leaders and social innovators.
There are many ways for your company and employees to participate.
RISE UP – WHO STOOD UP FOR YOU? VIDEO CHALLENGE!
Amplify the voices of your employees to create greater unity within your organization and inspire youth in your communities!
Your employees can inspire youth through sharing their own stories of bullying, allyship, and thanking someone who stood up for them. This is a wonderful way to build deeper connections and unity within your own organization through passion and purpose.
We will also create a video montage for your company!
Watch US Cellular celebrate their company culture of inclusion by taking the RISE UP Challenge and sharing their stories of coming out, allyship and inclusion!
"The reason I come to work everyday and have a passion for what I do, is because here, I know that I am empowered to make a difference."
– Shelly Lemay, US Cellular
AWARD SCHOLARSHIPS IN YOUR COMPANY'S NAME!
Build a talent pipeline of outstanding young leaders!
Recognize and celebrate outstanding young change makers with scholarships awarded in your company's name.
You have the option to hold a virtual scholarship awards ceremony.
Humanity Rising does all the legwork, providing you with student service stories for your employees to review and coordinating the virtual awards ceremony.  All you have to do is log in and be blown away by the amazing things that young people are doing to create a better world.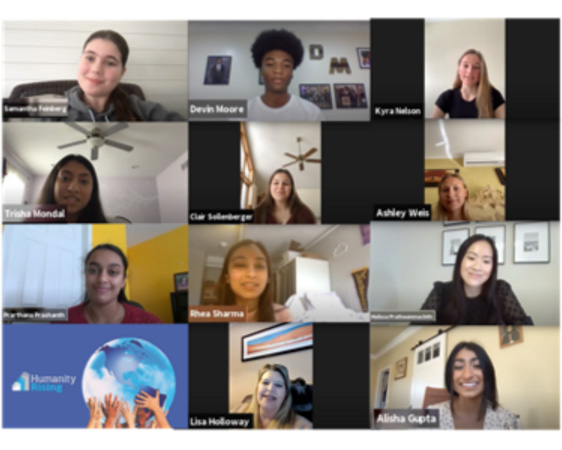 "I was honored to present scholarships on behalf of Discover at Humanity Rising's virtual award ceremony. Volunteerism is one of Discover's core values and this was a great way to make an impact, especially in this digital world!"

DONATE / EMPLOYEE GIVING
Create exponential impact in your communities!
75% of employees said they would like to participate in Humanity Rising.
– Kellogg Graduate School of Management Marketing Class Study.
Help youth become their best selves and better the world around them through supporting our many programs and scholarship awards.
The theme of Humanity Rising is "What Cause Inspires You?", and the social causes include Anti-Bullying, Hunger, Homelessness, Youth, Education, People With Disabilities, Veterans, Health Care, Animal Welfare and the Environment.
You can help empower students to create change in social causes that align with your company's mission and your employees' passions!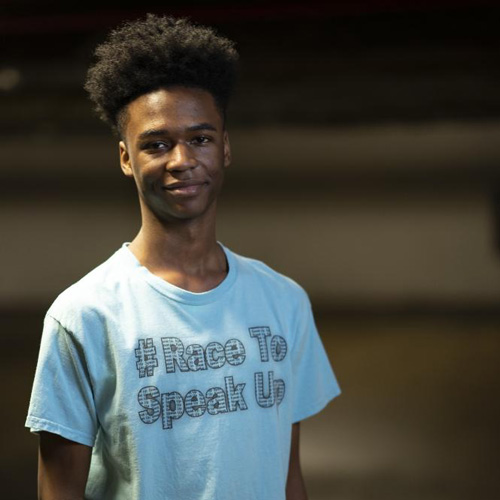 Devin Moore, Humanity Rising Ambassador and Founder of #RacetoSpeakUp, an anti-bullying organization. Through Humanity Rising, Devin is teaching students how they can become upstanders and allies, and end bullying.
"I'm a chairman of a company with over 3,000 employees. Some of those employees have children that are being bullied. If families are hurting, your employees are not able to work to their full capability. It is a necessary service to your employees to be a part of the solution."
"This was the BEST volunteer experience by far. I reviewed the service stories with my two young children. They learned about service and different social causes, and were inspired by seeing what older kids, who are their role models, are doing to make a difference in the world."

In their words…
"We inspire students to discover their service passion and make a difference, amplify their VOICES to inspire their peers to service, and recognize and celebrate outstanding young changemakers through scholarship awards."